Finger-jointing and laminating small-diameter timber
by David Saunders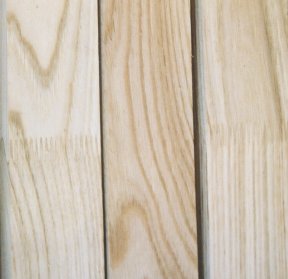 Historically, the use of timber in construction, engineering and manufacturing has been limited by:
The size of trees available
Quality of the timber - the mechanical properties including movement potential and durability and freedom from defects.
Clear lengths of large-sized quality timber has always been in demand and commanded premium prices. Limited quantities and cost have restricted availability and use. Sawing of low-quality logs could only produce low-value, small dimension timber with low yield, and increased cost.

New developments in wood technology have focused on creating higher value out of smaller-sized low-value timber. Small dimension short-length logs, sawn to remove knots, changes in grain direction and other defects can now be finger-jointed and glued to produce long-lengths of clear timber.

This has shown how pioneering developments in automated finger-jointing technology, together with high-strength durable glues have revolutionized the ability to use low-value timber in exciting new ways.
This article was posted on 18 November '08