Funding Assistance for Woodland Initiatives
by David Saunders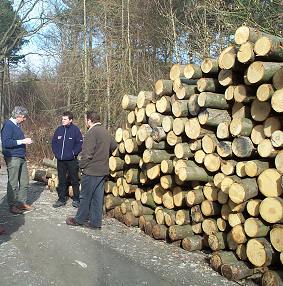 Grants & Funding
There are a number of new grant schemes available to support forestry and rural activities or businesses which aim to add value to timber produce.

The Rural Development Programme for England (RDPE) is a new source of funding from the EU and Defra that is available to farmers, growers and foresters. The grants are administered by South East England Development Agency (SEEDA) who has about £60 million available for the period 2008 to 2013. For further details please see: www.seeda.co.uk/rdpe.
The funding will cover a wide range of activities such as farm diversification, adding-value to woodland products, tourism activities, renewable energy projects and collaborating to develop new products and services.

For the forestry sector RDPE offers up to 50% grants for capital investment.
Eligible activities include:
timber harvesting or processing
production of wood fuels
training to increase skills and profitability
development of wood fuel or timber supply chains.

As part of the Programme SEEDA has awarded £27 million to a number of
Leader Local Action Groups (LAG) across the region. Each LAG will receive delegated funding of between £1.6 million and £2.6 million for the life of the programme. It is these local groups who will decide where their share of the money goes, to ensure it fits local priorities and will generally be dealing with projects that require grant up to a maximum of £50,000.

For larger projects SEEDA will handle these directly and where they are related to forestry or woodfuel they will be handled in close co-operation with the Forestry Commission.

The South East Woodland and Timber Fund (SEWTF) is a separate but complementary funding stream provided by SEEDA and administered by the Forestry Commission. The aim of the SEWTF is to encourage woodland management through strengthening the timber supply chain. The fund can support the types of activity listed below and it can also be used to help applicants with small-scale projects that are not eligible under RDPE.
investment in processing equipment
work based training
marketing and promotion of the use of timber
market research to widen the use of timber in the region
training in business and marketing skills
For further information please read the details on the SEEDA and Forestry Commission web sites.
This article was posted on 18 November '08